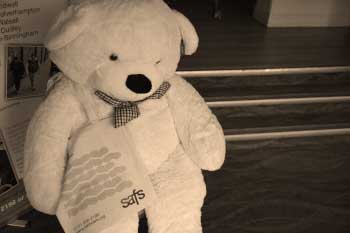 Early in 1985, a six-month research project started, based on the suggestions of Sandwell Social Services Department that recognised that it had little knowledge of the needs of the Asian population within the borough, especially if an Asian family had a child with disabilities. This research project studied twenty-three such families.
The brief was "to investigate the families' needs in relation to the services provided by the Health, Education and Social Services Departments"
The conclusions of the study showed a poor take-up of benefits and mainstream services, little knowledge of specific disabilities, lack of adequate housing and few or no skills in written or spoken English.
As a result of this study the charity Invalid Children's Aid Nationwide (ICAN) in 1986, set up and supervised a centre for Asian families with children who had disabilities.
ICAN had a history of 100 years of offering services to children with disabilities and SAFSS has used that knowledge and experience to build up our present service.
SAFSS was initially part of the Caring for Carers consortium then became independent and a charity in its own right in 1989.The charity was named SAFSS as an abbreviation of its full title: Sandwell Asian Family Support Service.
The priorities in 1986 were to link workers with individual families and build up a working relationship based on trust and confidentiality. Asian women workers with skills in languages such as Punjabi, Hindi, Urdu, Bengali and Gujrati were employed over the years and built up a service which covered information on benefits, supporting carers in their contacts with special schools and hospitals and giving opportunities during home or office visits for carers to discuss issues and concerns about their child.