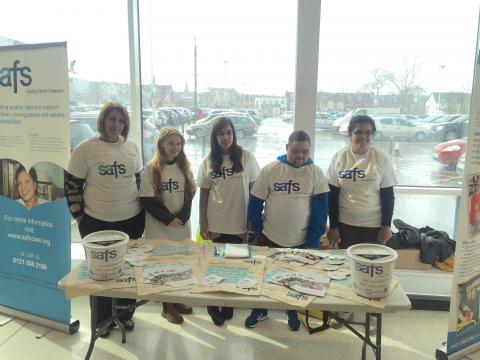 On Monday 4th April 2016 SAFS carried out a fundraising activity at Cape hill Asda, alongside a small group of our adults who attend our 'lifestyle service', whom all thoroughly enjoyed the opportunity to socialise and interact with our local community.
The day was a great success as we were able to promote our services and raise money for SAFS. We couldn't believe how well the day went and we would like to say a huge thank you to ASDA Cape Hill for supporting us and providing us with the opportunity to interact and reach out to our local community to raise awareness of our Charity.
We managed to raise £37.60 which in a few hours we see is a big achievement as the awareness we raised was far greater and we hope to work in collaboration with ASDA in the foreseeable future.
 Please feel free to contact us should you wish to join us in any future ventures. For more information on this contact: [email protected]