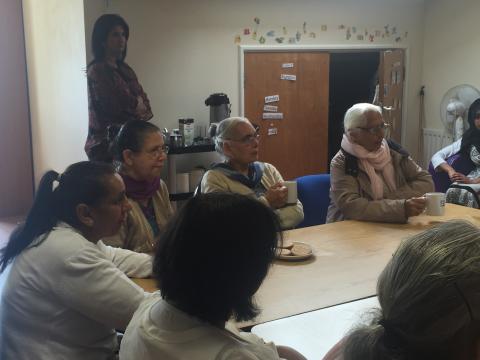 SAFS are excited to announce that once again Dawinder Bansal, Peter Chand and their team from Black Country Touring shall be coming back to SAFS.
They had previously visited our Parents & Carers group last year in 2015 to gather old folk stories for their performance piece 'Tongue, Tied & Twisted'.
On Thursday 28th May 2016 from 11 am, Peter Chand shall be narrating the story of 'Tongue, Tied & Twisted'.
 Peter Chand is a very popular professional story teller, who combines Punjabi and English cultures in his stories, which influenced the foundation of 'Tongue, Tied & Twisted'.
 Peter has been uncovering old folk tales and stories from friends and families in India and the Sandwell area, including our Parents & Carers group.
 Peter aims to collect as many old folk stories possible, to translate into English and then re-tell them in a performance mixed with music and soundscapes live with UK music producer PKCthe first.
 This to time however they shall be returning to SAFS to perform a fabulous one off performance piece in Punjabi, especially for our Parents & Carers support group and the local Asian women's yoga group.
 Our Parents & Carers group can't wait to see their performance!
 For further information about this project or to get involved in the future please contact Amelia or Sabina, our Project Support Administrators on: 0121 558 2198 or via email: [email protected]